Antlers Quest Info ( Item 2284 )
A set of deer antlers that humans, finally, can proudly wear.
Item Information:
Antlers
Quest Type
Upper Headgear Quest
Requirements
Evil Horn x 20 - Baphomet Jr. (MVP/100%)[prt_maze03]
Quest
1.- Warp to Alberta (@go 4) and enter the building at 102,222.

2.- Once inside, go up the stairs and down the hallway to the second room.
3.- Find Cherokee at 122,53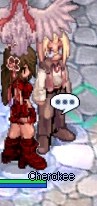 4.- Give him the items.
Ad blocker interference detected!
Wikia is a free-to-use site that makes money from advertising. We have a modified experience for viewers using ad blockers

Wikia is not accessible if you've made further modifications. Remove the custom ad blocker rule(s) and the page will load as expected.