This quest can only be completed by a male character only. It also requires that you stay log in from the time you talk to Little Noor at night until Day Risen. Use @time to know what mode the server is in.
Note: This quest will work if you talk to him minutes before the server ends Night Fallen mode and turns into Day Risen mode. Be sure to have the correct items in your inventory before talking to him.
Blue Pajamas Hat Quest Info ( Item 5506 )
Increases damage by 5%. MATK + 5%.
Item Information:
Blue Pajamas Hat
Quest Type
Upper Headgear Quest
Prerequisite:
Ear Muffs
Requirements
Sea otter Fur x 50 - Sea Otter (100%)[cmd_fild04]
Soft silk x 70 - Evil Nymph (100%)[gon_dun03]
Yarn x 1 - Dancing Dragon (100%)[lou_dun03]
Quest
1.- When the server is in Night Fallen mode. Warp to Rachel (@go 23) and enter the building at 108,197.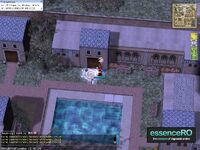 2.- Go in and find Little Noor at 200,91.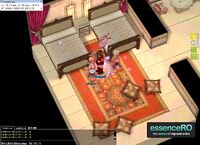 3.- Talk to Little Noor. He will give you a list of items needed and tell you to come back tomorrow morning.
4.-Stay logged in until the server is in Day Risen mode. If you log out after talking to him, you will have to start the quest over.
5.- Once the server is in Day Risen mode. The correct items need to be in your inventory. Talk to Little Noor again and you will receive your hat.
Ad blocker interference detected!
Wikia is a free-to-use site that makes money from advertising. We have a modified experience for viewers using ad blockers

Wikia is not accessible if you've made further modifications. Remove the custom ad blocker rule(s) and the page will load as expected.